In March 2016, Google announced the launch of a new group of analytics products; The Google Analytics 360 Suite. Included in the launch was Google Data Studio, a new data visualization and reporting tool. Having used Tableau to visualize Google Analytics data for several years, we thought we'd test drive the new Data Studio to see how the two products performed in a side-by-side test.
What is Google Data Studio?
Google Data Studio is a web-based reporting and visualization tool. A free version is available to anyone in the U.S. with a Google Analytics account.
How does Google Data Studio Compare to Tableau?
We evaluated the two products on qualities we felt were important to the average web analyst. Since both Tableau and GDS can be used to create all types of reports and dashboards, we thought it would be best to do the comparison based upon our needs for a specific client's use case: Building a dashboard with Google Analytics data.
Calculated Fields
Tableau and Data Studio have similar calculated field functionality. If you've never used either product, then there will definitely be a learning curve, regardless of which one you decide to use first. Though they use slightly different syntax structures, both Tableau and Data Studio allow you to fully customize your report using calculated fields. Tableau has a slight edge in that it organizes your calculated fields in a more accessible manner. But for the dashboard we were working on in this example, there was no clear winner in this category.
The two screenshots below show calculated fields in Tableau and Data Studio that perform the same task:
Tableau

Data Studio

End-User Interactivity
Data Studio and Tableau each provide the ability to add interactive widgets to your reports; Such widgets can allow end-users to do things like change a graph's date range, or filter out certain items from a graph. Doing so in Tableau requires every report user to have a Tableau Desktop or Tableau Online license (this could also be done with a free Tableau Public license, but we're assuming you wouldn't want to make your data public). For GDS, the interactive widgets are included in both the free and paid versions, and are available to use by anybody who has viewing access to the report. For this reason, Data Studio wins this category.
Tableau Data Studio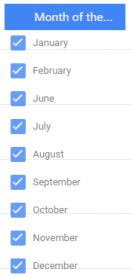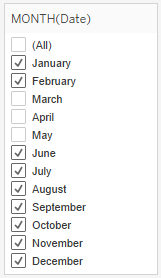 Report Sharing
Tableau gives you the ability to create PDFs and PNG images of your report and share them with anyone. However, if you want to share a report to a client or co-worker for editing, they will also need to have either a Tableau Desktop or Tableau Online license. Getting everyone in the circle licensed could quickly become very expensive. Not to mention, everyone also needs to be running a version of Tableau that's at least as recent as the version used to create the report. So if the report is created in version 10.1.2, then somebody running version 10.1.1 wouldn't be able to open the file without first updating their installation of Tableau. This can get a bit annoying sometimes.
Data Studio's sharing functionality is built on top of the familiar Google Drive sharing engine. It's easy to share a report to any email address, as well as grant viewers editing permissions. The one major downfall with this is that you can't download the report and send it as an attachment. The report is in the cloud, and will always be in the cloud.
Because Data Studio doesn't require users to update software, and because it allows anyone with the appropriate permissions to edit a report, we're calling this a close win for Data Studio. But if you're reading this, Google engineers, we'd really like the ability to download a report for offline viewing.
Online Help and Community Support
Tableau has been around since 2003, so the online knowledge base, FAQ section, and community bulletins have had plenty of time to grow into a vast system of support. We've usually been able to find answers to most any question we've had about Tableau, although some required quite a bit of digging. The handful of times we've had to contact Tableau Tech Support, the representatives have been responsive, knowledgeable, and pleasant.
Data Studio has only been around since 2016. Since then, Google has put together a decent – and growing – knowledge base section, but the community just isn't there yet. So, an easy win for Tableau in the help and support category.
Data Connectivity
This was a tough category to judge. There are definitely issues connecting to and updating our client's Google Analytics data in Tableau. Refreshing the Google Analytics extracts in our desktop version of Tableau, for example, can be painful and time-consuming.
Data Studio, on the other hand, connects effortlessly to Google Analytics. There is no refreshing required (only seasoned Tableau users will understand just how beneficial that is). The same is true for all Google data products (AdWords, Sheets, BigQuery, Cloud, etc).
Despite Data Studio's (awesome) dynamic refreshing feature, we're giving the data connectivity category win to Tableau, for two reasons:
Sampling: In Tableau, you have the option to completely turn off the sampling of your Google Analytics data. And since sampling can have a dramatic impact on the accuracy of your data, having the ability to turn it off is an important feature; a feature that Google has yet to implement for all Analytics subscription levels. It is worth noting, though, that the paid version of Google Analytics eliminates this problem for most reports. But since the free version is what our client has access to, that's what we had to base our analysis on.
Connecting to non-Google data sources: Currently, the only non-Google data connections you can make with Data Studio are to MySQL and PostgreSQL databases. But even those need to be accessible via the internet rather than on a private network. Tableau, on the other hand, has a wide-ranging set of built-in data connections. Not only can you connect to most Google data products, but you can also connect to all sorts of other cloud services like Amazon Redshift, Marketo, Microsoft SQL, Oracle, QuickBooks Online, and Salesforce. Tableau will also allow you to create connections to various file types, like Excel, JSON, and text/CSV.
Ease of Report Building
The engineers at Google went out of their way to make report building in Data Studio as user-friendly as possible. After only 30 minutes of playing around with Data Studio's tutorial and sample reports, we were easily able to create great-looking reports and dashboards. Some of the more nuanced aspects of Data Studio – like calculated fields – took a little bit more time to learn. But we feel that even entry-level analysts will have little to no problem figuring out how it all works.
Tableau also prides itself on providing great-looking reports and dashboards. However, because of its complexity, report building in Tableau requires a bit more effort than it does in Data Studio. Although we've been using Tableau for several years, we have not forgotten the difficulties of learning it from the ground up.
Since this category is about the ease of report building, we're giving the gold to Data Studio. That being said, Tableau gives you a lot more control over your graphs and has a lot more features.
Pricing
Tableau offers a free version of their product (Tableau Public) for people who want to make their data publicly available. But, assuming public data typically isn't an option for you, you're going to need to pay Tableau; At a minimum, each user who creates visualizations will need a license for Tableau Desktop. You'll start by paying a $1,600 one-time fee per user for the desktop version. Additionally, each year (including at the time of signup), you pay $400 per user/per year for maintenance fees. Depending on how your users consume the data, you may also need one or more licenses for Tableau Online or Tableau Server. Tableau Online and Tableau Server allow users to see and interact with a web-based dashboard, as opposed to just receiving a manually-generated PDF. Tableau Online is $500 per user per year, and each user needs a license if they expect to log in and interact with the dashboard. Tableau Server pricing has several caveats, but generally it is about $200 per user per year after the $8,000 up-front price. Tableau Online and Tableau Server are basically the same except Tableau Online is a Software-as-a-Service (cloud-based) and Tableau Server is on-premise software which requires fairly powerful hardware.
Currently, the full version of Data Studio is available for free.
Which one did we choose?
We really liked Google Data Studio's sharing functionality, dynamic data updating, price, and ease of report building. However, there was a twist: Our clients have very little tolerance for Google Analytics data sampling, which is something Google Analytics does to reduce load on Google's servers when you are using their free products. The graphs in our client's report required so much data that Google Analytics was sampling it all at a very high rate when we used Google Data Studio; leading to inaccurate numbers. Data Sampling can be turned off if you pay for the Google Analytics 360 Suite, for the lean price of only $150,000/yr. But, Tableau gets around this problem by automatically reducing the size of requests when talking to Google's servers. So, if you use Tableau, you don't have to pay for Google Analytics 360 and you get accurate data. Had our client been using the paid version of Google Analytics, Google Data Studio would have been the clear winner.
Which one is right for you?
Although we chose Tableau as our winner, it's very easy for us to see where somebody else would choose Data Studio for their reports. If you're already using Google Analytics for your web data collection, then you may be able to get away with using the free version of Data Studio. This is especially true if you don't need to send the reports as PDFs, you don't have a lot of reports to make, and data sampling isn't an issue for you.
Good luck!